Southern Style Buttermilk Biscuits
This is based on a recipe by Alton Brown. If you try these and like them, buy one of his cookbooks. Makes 10-12 biscuits.
You will need a pastry blender, parchment paper, and a biscuit cutter for this recipe*. Using a food processor instead of a pastry blender makes the dough (and the biscuits) tough. Using a drinking glass to cut biscuits mooshes down the edges and keeps the biscuits from rising properly. I like the 3" cutter that's a part of the set.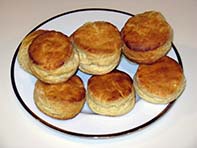 3 c. all-purpose flour
2 tbsp aluminum-free baking powder (Rumford)
1/4 rounded tsp baking soda
1 tsp salt
3 tbsp butter cut into 1/2" dice
3 tbsp shortening, chilled
1 1/3 c. buttermilk (low fat is OK.)
Preheat the oven to 425°.
Thoroughly sift the dry ingredients together in a medium bowl. (I do this with a wire whisk.) Cut in the butter and shortening with the pastry blender until there are no pieces bigger than a pea. That's 3-5 minutes of blending. Stop every minute or so and scrape the mixture from the edges of the bowl toward the center.
Make a well in the center of the mixture and pour in about a third of the buttermilk. Stir with a wooden spoon until the buttermilk is well blended. Do this twice more to use all the milk. Be careful to avoid leaving powdery, dry material at the bottom of the bowl.
Turn the dough out onto a well-floured work surface and, with heavily floured hands, pat and push it into a rectangle or oblong shape. Fold it in half and push into an oblong shape again. Make three or four such folds. You will have to flour the work surface and your hands each time. A pastry blade will come in handy for cleaning the work surface. You are trying to "work out" any cracks or fissures that may still exist in the dough after mixing in the buttermilk. You are not kneading the dough; be gentle! Folding also makes layers in the dough. The biscuits rise higher and they're easier to cut so you can stuff them full of things that make your arteries slam shut.
With a well-floured rolling pin, roll the dough to about 1/2" thick. Cut biscuits by pressing the cutter straight down; if you twist while pressing, the biscuits will not rise as well because the twist seals the edges. You will get perhaps five or six biscuits out of this first pass. Arrange them not touching on a baking sheet lined with parchment paper.
Gather the remaining dough and roll out a strip one biscuit wide and perhaps three biscuits long. Cut the biscuits. Gather and roll again; you get one biscuit on this last pass. Gather the remaining dough, shape it into a biscuit-shaped blob with your hands, and put it on the parchment. It won't be as pretty, but it'll taste as good!
Brush the tops of the biscuits lightly with buttermilk. Bake at 425° for 22-27 minutes, until golden brown on top.
* About those links: If you buy something using one of my links to Amazon, they pay me a few pennies. If that bothers you, just go straight to Amazon and search. To put things in perspective, in the last six years, I've been paid about $20.
Last updated: 2015-08-17 8:56
Orignially posted: 2015-08-11