European Style Hard Rolls
From the Kitchen at Emory Cottage
These rolls have a crunchy crust and are light and airy inside. They're a hit at dinner and great with butter and jam at breakfast. You will need a stand mixer, a kitchen scale, and baking parchment for this recipe. It takes about eight hours, but only a little of that is active time. Makes about 18 dinner size rolls.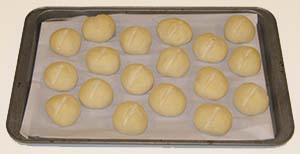 Assemble the following:
4 plus cups bread flour, divided
warm (110 degrees) water
1-3/4 tsp active dry yeast
1 tsp sugar
1-1/2 tsp salt
1 egg white
Put the yeast and 1 tsp sugar into 2/3 cup warm water in the bowl of the stand mixer and stir to dissolve. Stir in 3/4 cup of flour, cover with plastic wrap and a towel, and allow the yeast to develop for about an hour.
Add 2/3 cup of warm water, the salt, and 3 cups of flour to the mixer bowl and mix on low speed (or you'll have flour everywhere) until the flour is incorporated. Add a little flour or water as necessary to get a slightly sticky dough that cleans the sides of the mixer bowl. Increase speed and knead for about two minutes. Re-cover with plastic wrap and towel and allow the dough to rise for about 2-1/2 hours. Gently deflate it after one hour and again after 45 more minutes.
Turn the dough out onto a lightly-floured work surface and form it onto a "log." Cut slices of abou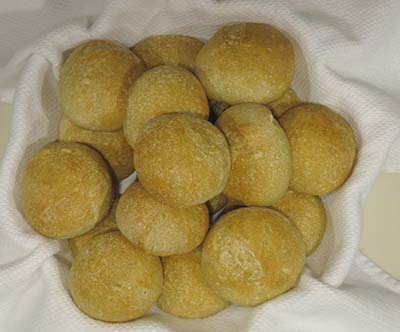 t 1.9 ounces or a little less by weight and form them into balls. The easiest way to do that is to form a circle with thumb and index finger and push the dough down through the circle. Place the rolls on a parchment-lined baking sheet, spacing them about 1-1/2" apart. Cover with a towel and refrigerate for about three hours.
Preheat the oven to 425 degrees. Make an egg wash by vigorously shaking an egg white with about a tablespoon of water in a small jar. Score each roll with a bread scoring lame
(or a disposable scalpel) and brush with the egg wash. If you're serving these as dinner rolls, you could shake on a little coarse salt, sesame seeds, etc. while the egg wash is wet.
Bake at 425 degrees for about 20-25 minutes, until the tops of the rolls are golden brown. If you used two baking sheets, exchange top and bottom racks after about 15 minutes.
Cool on a rack.
Just before serving, you can warm the rolls for about five minutes in a 350 degree oven.
Last updated: 2018-03-10 12:54
Orignially posted: 2013-07-07