Mom's Apple Pie
You will need a deep 9-1/2 inch pie plate for this recipe. I like this one. (Amazon pays me a few pennies if you buy using my link. Many grocery stores also have these.)
The day before: Make dough for a two-crust butter-crust pie shell and let it rest in the refrigerator o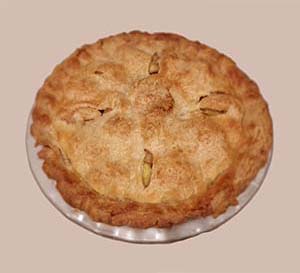 ver night.
3 lbs tart apples, like Granny Smith, (about eight apples) peeled, cored and sliced in eighths. (An apple corer/slicer makes this job a lot easier.)

3/4 cup sugar
1/2 tsp cinnamon
1/8 tsp nutmeg
1 TB brandy, rum, bourbon
1 TB lemon juice
1/4 cup very fine dry bread crumbs or panko
2 TB butter, diced 1/2"
1 egg
1 tbsp of milk or cream
White/clear sugar sprinkles (optional)
Preheat the oven to 350° with a sheet of aluminum foil in the bottom to catch drips..
Core, slice, and peel the apples. Put them in a large bowl of water with a teaspoon of ascorbic acid (vitamin C) or a TB of lemon juice to keep them from browning.
Put the sugar, cinnamon, and nutmeg in a smaller bowl and sift together with a wire whisk.
Make the egg wash by shaking the egg and cream or milk vigorously in a jar until well mixed. Set aside.
Roll out the bottom crust and line the pie plate. Roll out the top crust and refrigerate on a dinner plate.
Spread the bread crumbs or panko evenly across the bottom of the crust.
Dry the apples in a salad spinner; dry the bowl they were in. Put the apples back in the bowl and sprinkle the lemon juice and liquor over them. Toss lightly to coat evenly.
Pour the sugar and spice mixture over the apples and toss lightly again to coat the apples.
Take the top crust out of the refrigerator.
Arrange the apples around the edge of the pie plate alternating core-side up and core-side down. Make an inner circle the same way, and fill in the middle. Fit any extra slices where there are gaps.
Pour the liquid from the bowl evenly over the apples.
Dot the apples with butter dice.
Brush a little of the egg wash over the outer edge of the bottom crust.
Place the top crust, trim to about 1/2" from the rim of the pie plate, fold the top crust under the bottom crust and flute the edges.
Cut four vents in the top crust, then brush with egg wash and add the sugar sprinkles.
Bake at 350° an hour and ten minutes; cool on a rack.
Last updated: 2022-01-17 11:39
Orignially posted: 2019-12-24