Dark Chocolate Brownies
Warning: These are in no way good for you! They have less sugar than you might be used to, and so have a dark chocolate or bittersweet flavor. Even so, they're made entirely out of sugar, fat, and carbs.
Ingredients
one stick, 8 oz. butter (unsalted, preferably)
3/4 cup unsweetened cocoa
1 cup granulated sugar
1/8 tsp salt, if you used unsalted butter
1 tsp vanilla extract
3 eggs, shaken or beaten to a uniform yellow color
1/2 cup flour
You could put 1/3 cup of chopped nuts if you wanted. Or not, as the case may be.
Line an 8x8 glass baking pan with parchment, leaving parchment flaps on two sides. Spray the two sides without parchment lightly with cooking spray. Preheat oven to 325°.
In a double boiler or heat-proof bowl over, not in, just simmering water, melt the butter. Remove from heat and stir in the cocoa and sugar, breaking up any clumps of cocoa. (It's easier to break up the lumps if you mix sugar and cocoa before adding to the butter.) Stir in the salt if you used unsalted butter. Set aside until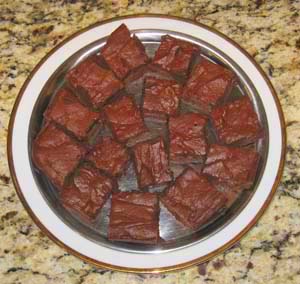 nearly cooled to room temperature.
Beat the eggs or shake them in a jar until they're a uniform yellow and you've incorporated some air. About 150 shakes is right if using the jar method.
With an electric mixer, stir the eggs and vanilla extract into the chocolate mixture. Add the flour and stir it in. Stop from time to time to scrape sides and bottom of bowl with a spatula to be sure all the ingredients are incorporated. When the mixture is uniform, increase speed and beat for at least two minutes, until the color starts to lighten from incorporating air.
Bake at 325° for 30-35 minutes until a toothpick comes out almost clean. Cool completely on a rack, run a knife along the sides of the pan without parchment, and lift the brownies by the two parchment flaps. Put the brownies in the freezer for 30 minutes or so, then cut into squares. These are very rich, so you may want to make the squares smaller than otherwise.
Last updated: 2014-05-29 15:47
Orignially posted: 2014-03-23