Chicken Pot Pie
This recipe started out with a note that I was still "dorking around" with it. I've made several adjustments, and subjected four friends to experimentation. I think it's right. This is now an official recipe from the kitchen at Emory Cottage. Go for it!
If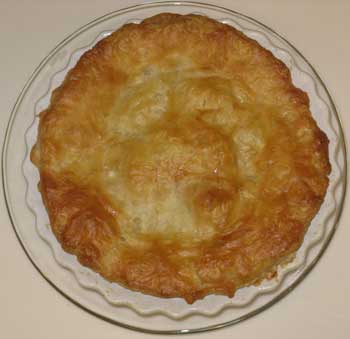 chicken pot pie is not the ultimate comfort food, it is certainly in the top ten. I started thinking about chicken pot pie when some friends brought two roasting hens to my house for a Saturday dinner. There was most of one left after dinner, and that's how it all began. Of course, I ate the leftovers in sandwiches and with my fingers long before the first pot pie, but that's beside the point. I ordered up some 5-Inch pie dishes
from Amazon and was ready to go. The ones I have are out of stock, but these* are similar. A search for "individual pie plates" will give you lots of options. (I guess I should say that these hold 1-1/2 cups of filling, which is more than one person can, or at least should, eat at one sitting. However, the leftovers keep well.)
So, here goes... this recipe makes four pot pies.
Ingredients
26 oz. by weight butter pie crust. (The recipe given makes about 18-19 oz. depending on the humidity, the amount of water used, and the whims of chaos. Increase quantities by half to make pot pies.)
Two split chicken breast halves, bone in, skin on. Include some dark meat if you like. You need about a pound after cooking.
A little olive oil
The white of one egg, shaken well with 2 tbsp water
A cup of sliced carrots (you could substitute corn, but don't brown it in butter)
A cup of green beans, cut into 1" lengths, about 1/2 pound before trimming (you could substitute peas)
A cup of pearl onions (Get the frozen kind; it's much easier! A 12 oz. package is about two cups.)
7 tbsp butter, divided
6 tbsp flour
1/2 small onion, chopped (1/3 to 1/2 cup)
3-1/2 cups chicken stock reduced by half (so, 1-3/4 cup after reduction)
2/3 cup cream or half-and-half
1 tsp salt (more or less, depending on the saltiness of the chicken stock)
1/2 tsp black pepper (I like coarse-ground Malabar pepper)
1/2 tsp marjoram
1/2 tsp thyme
1/2 tsp ancho chili powder *

* Note: ancho chili powder is hot. You are trying to give the dish a little bit of bite, not blow people's tongues off, so be careful. If you have no ancho chili powder, try 1/2 tsp of Tabasco sauce. Grocery store chili powder will not do.
Directions
Prep time is about 3 hours, not all of it active, plus 15 minutes for making the pie crust the day before. It's a lot of trouble and leaves your kitchen a big mess! But it surely is good!
Drizzle the chicken breasts with olive oil, season with salt and pepper, and roast in the oven at 350° to an internal temperature of 160 degrees. That took about 45-50 minutes for me. Allow to cool. Remove and discard the skin. Remove the meat and cut into 1/2" cubes. Save the bones to make stock if so inclined. Save the pan juices to add to the chicken stock
Bring 3-1/2 cups chicken stock (note: not chicken broth) to a boil and simmer on low heat until reduced by half to 1-3/4 cups. (If you overdo it, add water to make 1-3/4 cups. Use very low heat. You are trying to reduce the stock, not brown it.)
While the chicken is cooking and the stock is reducing, roll out 4 oz. (by weight) of pie crust for each pie plate into a circle a couple of inches or so larger than the pie plate. Line each plate with a pie crust, pressing the folds down to make the crust as even as possible. Prick the bottom with a fork in about four places, brush on the egg glaze (it keeps things from getting soggy) and refrigerate to allow the glaze to dry. Refrigerate the remaining pie crust.
Blanch the green beans in boiling water for about two minutes after the water returns to a boil; drain and set aside.
Blanch the carrots in boiling water for about two minutes after the water returns to a boil; drain and set aside.
Brown the pearl onions slightly in 1 tbsp butter or olive oil; when the onions just begin to brown, add the carrots and cook until both are lightly browned. Set aside.
Melt 6 tbsp butter in a medium sauce pan, add the 6 tbsp flour, and cook on medium-low heat, stirring constantly, until it just begins to darken and turns to a thin, syrupy liquid. Add the chopped onions and cook, stirring constantly, until the onions begin to turn translucent. Add the reduced chicken stock, a little at a time, stirring all the while. Add the cream or half-and-half while stirring. Add the seasonings. Cook until the sauce starts to thicken, then remove from heat. Taste and adjust seasonings, remembering that this sauce has to liven up a glob of incredibly bland chicken and vegetables. Allow the sauce to cool to room temperature, stirring frequently to keep a skin from forming. (It'll melt the butter in the pie crust if you don't!)
About now, preheat the oven to 425°.
Toss chicken, beans, pearl onions, and carrots in a large bowl until mixed.
Divide the chicken and vegetables among the four pie plates. Divide the sauce among the four pie plates.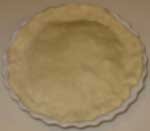 Roll out 2-1/2 oz of pie crust for each pie plate into a circle about 1/2" larger than the rim of the pie plates. Moisten the edges of the bottom crust by brushing with egg wash. Top each pie with crust and fold the edges of the top crust under the bottom crust, fluting the circumference with your fingers. Using a wide knife, pierce each crust at the four compass points to allow steam to escape.
Glaze the top of each pie with the remaining egg wash and refrigerate until the oven has preheated.
Bake for 30-35 minutes, until the top crust is golden. Let the pies sit for ten minutes or so after they come out of the oven because they'll be hot as hell inside.
You can refrigerate an unbaked pie for several days, especially if you let the interior egg glaze dry thoroughly before filling the pies. You can probably freeze unbaked pies, too. I haven't yet figured out how to avoid getting a beautiful golden crust on top of a lump of frozen chicken and vegetables, though.
* Amazon pays me a couple of pennies of you buy using my link.
Last updated: 2021-12-27 17:03
Orignially posted: 2013-03-18