Smoked Gouda Risotto with Mushrooms and Sun Dried Tomatoes
You can make risotto by stirring all day (well, it seems like all day) or in a pressure cooker
in less than seven minutes. Use the pressure cooker, OK?
This started out as a smoked mozzarella recipe. However, I had smoked Gouda and didn't have mozzarella. You will get a more delicate flavor, but just as good, if you use smoked mozzarella and omit the mushrooms.
1/3 c. sun dried tomatoes, diced finely
2 tb butter, divided
1 tb oil from tomatoes
1/3 c. finely chopped onion
1-1/2 c. arborio rice *
4 c. chicken stock
5 oz. smoked Gouda, diced small (about a cup)
Sliced mushrooms, about a cup.
Sauté the mushrooms lightly in 1 tb butter in the pressure cooker, but without pressure. Remove and set aside. (I sometimes skip the sauté step, which gives an earthier flavor.)
Put a tablespoon of butter and the tomato oil in the pressure cooker; sauté the onions until translucent, about two minutes. Add the rice and stir to coat with fat. Add the stock, lock the lid, and bring up pressure over medium high heat. Once the cooker is pressurized, cook for 6-1/2 minutes. Quick release the pressure.
Stir in the tomatoes, smoked Gouda, and mushrooms. Cover for a minute or two to alow the Gouda to melt and stir again. Salt to taste.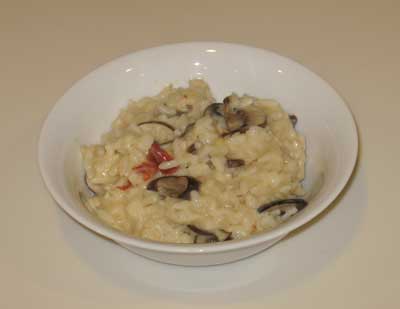 * You can make risotto with ordinary short-grain rice, but arborio rice will give you far better results.
(And, I get about a penny if you buy the arborio rice using the Amazon link above. So buy some, OK?)
Last updated: 2014-03-23 20:18
Orignially posted: 2011-07-14